Koncert: The Analogs, Castet, The Bastard / Myślenice, Pod Parasolkami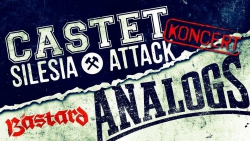 24 Lutego 2018, 19:00 -23:00
THE ANALOGS powstali w 1995 roku w Szczecinie i są obecnie jednym z najprężniej działających zespołów polskiej sceny punk rockowej. Na swoim koncie posiadają kilka płyt, zagrali setki koncertów, a takie utwory jak "Era Techno", "Pieśń Aniołów" czy "Co Warte Jest Życie" zna każdy fan nie tylko punk rocka. Koncert jaki zagrają będzie częścią wiosennej trasy promującej nowy album zespołu, który wyjdzie na początku 2018 roku.
TheCastet Reprezentują śląską scenę hardcore punk od 2003r. Wydali kilka płyt i jeszcze kilka wydzą. Nie grają na przeglądach, festynach i juwenaliach.
THE BASTARD powstali w 2007r. w Myślenicach. Muzyka zespołu to melodyjny hc/punk. Zagrali mnóstwo koncertów w całej Polsce, wystąpili na festiwalach, m.in. Przystanek Woodstock - Woodstock Festival - koncert w Pokojowej Wiosce Kryszny w 2014r. Cieszanów Rock Festiwal scena alternatywna 2013r. Rock na Bagnie 2016r. Maja na swoim koncie kilka wydawnictw płytowych. W 2017 roku obchodzili jubileusz swojego 10-lecia.
Bilety w przedsprzedaży 30 zł, w dniu koncertu 40 zł. UWAGA! Start koncertów punktualnie o 19.00!