Festiwal biegów górskich Ultra-Trail Małopolska 2018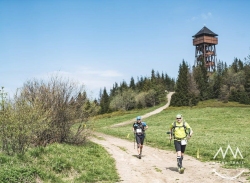 15 Czerwca 2018, 6:00 -20:00
W czerwcu odbędzie się górski bieg na dystansie 170 km. I Ty możesz biec UTM 170 i ścigać się dzień i noc, a jeśli marzysz o takim dystansie, ale jeszcze nie czujesz się na siłach, organizator przygotował rozwiązanie: zrób to na raty.
UTM 170 NA RATY Dystans UTM 170 można pokonać z przerwami na regenerację, w ciągu trzech dni, od 15 do 17 czerwca 2018 r.
- UTM 170 NA RATY startuje o 6.00 rano w piątek. Zawodnicy w pierwszym dniu biegną 70 km, w drugim 66 km i w trzecim 34 km. To będzie super weekend w Beskidach i Gorcach. Weekend all inclusive - każdemu zawodnikowi zapewnimy przepak, wyżywienie w punktach odżywczych i kontrolnych na trasie, 2 kolacje, 2 śniadania i 2 noclegi. Zawodnicy będą mogli skupić się jedynie na bieganiu i podziwianiu trasy. O całą resztę zadbamy my. Trasa pokrywa się z trasą biegaczy ścigających się na naszym najdłuższym dystansie UTM 170. Wszyscy zawodnicy będą mieli okazję spotkać się na Turbaczu – mówi Paweł Derlatka, kierownik zawodów.
Ultra-Trail Małopolska to letni festiwal biegów górskich, który odbędzie się po raz trzeci. Obejmuje 7 dystansów od 170 km i 170 km na raty, przez 107, 64, 48, 30 do dystansu 10 kilometrów. Najkrótszy bieg wcale nie należy do najłatwiejszych - to 750 m w górę i 750 m w dół.
Nie tylko skala trudności powoduje, że bieg jest wyjątkowy: to Memoriał Bartka Czajkowskiego – wybitnego fizjoterapeuty. Start i meta biegu znajdują się w malowniczo usytuowanej Bazie szkoleniowowypoczynkowej "Lubogoszcz" - w środku lasu a zaledwie 50 km od Krakowa. To miejsce na jeden czerwcowy weekend zamieni się w wioskę biegową.
Co ważne, każdy bieg jest pętlą. Zawodnicy zwiedzą Beskid Wyspowy i Gorce – dużą część Małopolski. Jak podczas każdego wydarzenia organizowanego przez Fundację 4 Alternatywy, w czasie Ultra-Trail Małopolska będzie trwać zbiórka karmy i koców dla bezdomnych psów i kotów w ramach akcji Człowiek zwierzakowi bratem i zbiórka odzieży sportowej dla pacjentów Ośrodków MONAR.
- Pacjenci, również poprzez treningi biegowe, wychodzą z uzależnień, z którymi się zmagają. Biegacze nigdy nas nie zawiedli. Po każdym festiwali mamy kilkaset kilogramów do rozdysponowania. Wspólne działanie daje moc! – mówi Piotr Jasiński z Fundacji 4 Alternatywy.
Więcej informacji: www.ultratrailmalopolska.pl